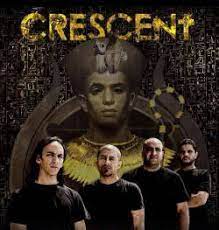 CRESCENT – (Egypt) – Death Blackened Metal 
Crescent was formed in 1998 by Ismaeel Attallah and Amr Mokhtar with the inspiration of bands like Death, Bolt Thrower and Dissection. In 1999 the band released its first demo 'Dreamland', back then Crescent was classified as a Black Metal band and one of the earliest Metal bands in the country/region.
They evolved into a Death/Blackened metal band and toured EUROPE as the first EGYPTIAN Metal band touring EUROPE in 2014. Their latest ALBUM "Craving the fires of Akhet has made waves all over the metal scene.
Link to ALBUM: https://youtu.be/RRfD98KKRoA
Facebook: https://www.facebook.com/Crescentband
THRON – (Germany) – BLACK/DEATH Metal
Formed in 2015 as a project of experienced, devoted musicians from German bands in the Black Forest region, THRON'S initial goals were to play authentic black/death in the spirit of the early to mid '90s. Heavily influenced by bands like Dissection, Unanimated, Sacramentum and Mercyful Fate among others, the band creates a symbiosis of icy melodies, harshness and a haunting atmosphere.
In January 2017, THRON released their self-titled debut album via Clavis Secretorvm. In October 2018 their second assault "Abysmal" was released on renowned French Listenable Records. Since then the band made itself a name as a powerful live band, playing on such events like Czarfest, Baden in Blut Open Air and Summer Breeze Open Air and various Shows with bands like Ultha, Rotting Christ, Firtan, Conan and more.
Despite their short time in existence their Brutal Death/Black Metal has been recognized all over Europe and with several festivals and venues interested in them.
LINKS:
Video: https://youtu.be/aaYx5UtFJcY
Website: https://thronkvlt.bandcamp.com
Facebook: https://www.facebook.com/pg/THRONKvlt
HORRESQUE – (Germany) Death/Black Metal
It's the abysses of the human mind, it's man's cruel and vile nature that fuels all that is Horresque. Horresque dig deep into classic trademarks of both genres, enriching their sound with an analog and dynamic production. With their
own twist of double-guitar melodies and a broad vocal range of screams and growls, as well as inexorable drumming, this Album does make one thing clear:
Horresque are here to conquer!
Link to Music: https://youtu.be/Lm8tFGhR83E