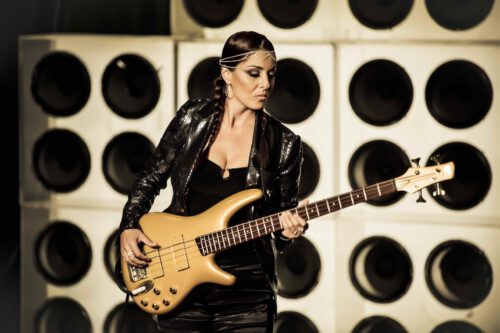 "TIME 2 STOP WORRYING (bout the weird stuff)"
The new album from bass player Ida Nielsen once again shows Ida's acoustically diverse repertoire: Oldschool funk mixed with hiphop and Nusoul. Add to this a sprinkle of beautiful soul inspired ballads. The result? Simple, sexy and cool tunes reaching beyond the passionate, limited fan base of the funk bass.
But make no mistake. This is the work of Ida the funk bass player – with a built-in passion for experiments and the heavy rhythm of the bass. "TIME 2 STOP WORRYING (bout the weird stuff)" is an album with a cool message and an album of depth and distinct sound that establishes Ida Nielsen as an artist here to make some noise. It's bass player meets songwriter meets instrumentalist meets producer.
Each track carries its own composition. Each track has its own attitude and feel. And yet, the album is a perfectly united sound piece paying tribute to funk. This is authenticity, improvisation and intensity stripped down and ready to party. And Ida has invited her friends along the joy-ride. Performing on the album is a musically hard hitting cocktail -high on creativity counting great names such as Liv Warfield, Shelby J, Kuku Agami, Son of light & Donna Grantis.
About Ida:
Ida Nielsen got her life turned upside down when music legend Prince discovered her in August 2010. Shortly after she joined his band and started touring with him and "The New Power Generation" as well as the 4 piece power house rockband "3rdeyegirl"