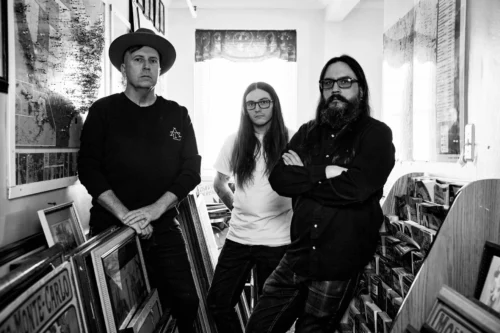 Formed in 2010 in Atlanta, Georgia, the trio has established themselves as one of the most successful and motivated bands in the genre today. Elements of Helmet, Melvins, and the Amphetamine Reptile roster can be heard throughout their catalog, but Whores are no regurgitated throwback act. Through intense, cathartic live performances and the perfected aggressive tenacity present on their recordings, the band has gained a fervent following sure to do nothing but grow in the years to come.
October 28, 2016 saw the band's first full-length album and their debut on eOne records, "GOLD."
The album was widely praised, garnering spots in the top ten on album of the year lists through publications such as Rolling Stone, MetalSucks, Heavy Planet, Invisible Oranges, Shiny Grey Monotone, and more. The band is currently recording the follow-up to "GOLD."
Prior to their signing with eOne, Whores' output included two now-classic EPs. "RUINER." released December 20, 2011, put the band on the noise rock map and is now on its fourth pressing. They followed this up with the even-more popular "CLEAN." released October 29, 2013 and now on its sixth pressing.
Between these and "GOLD." the band released a split of covers by The Cure with Rabbits and contributed the song "Bloody Like the Day You Were Born" to Amphetamine Reptile's "Dope-Guns-'N-Fucking in The Streets, Volume 13". Whores also just contributed the track "Flag Day" to Amphetamine Reptile's "Bash '17" alongside acts such as The Melvins, Mudhoney, Lydia Lunch, and Cherubs.
In their short career, Whores have received much critical praise. Some highlights include:
• "Ten Artists You Need To Know" – Rolling Stone